products > climbing > standard
Climbing Standard
With the largest brim in our climbing line, our original multisport standard helmet visor gives wide 360° UPF50+ sun protection. A contoured brim adds excellent neck sun protection to your climbing helmet and helps reduce sun-related fatigue. Perfect for instructors, guides and SAR teams who are always out in the elements.
Installs quickly and easily without modification to your helmet or sticky adhesives
Air flows freely through helmet vents, promoting cooling
Helps block glare
Works with headlamps and hydration packs
Flexible
Reinforced brim edge for added stability in windy environments
Leash provides convenient attachment to carabiner (not included) when transporting
UPF50+ Sun Protection
Uses: Big wall climbing, Trad climbing, Sport climbing, Mountaineering, Search and Rescue, Guiding. Ideal for areas and desert environments with intense sun
Pictured on a helmet. Helmet not included.
Quick and easy to install
No modifications to your helmet or sticky adhesives
Da Brim Multisport Standard Installation Instructions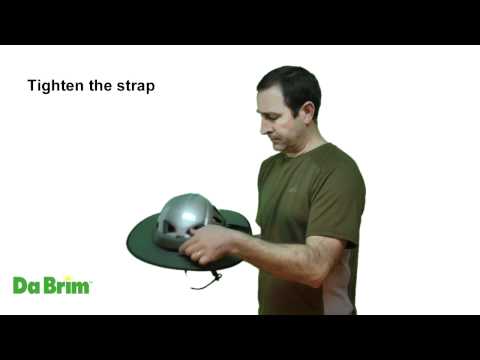 Installation on a helmet with a small or no visor
Instructional video showing how to install Da Brim Multisport on a helmet.
UPF50+ brim (helmet attachment crown not rated)
As with other visors, does not provide top of head sun protection
3 ½" front brim contours to 5" at rear to provide excellent neck sun protection
Lightweight (weighs approximately 4.5 oz.)
Water Resistant
100% Nylon (200d) exclusive of decoration
Hand wash, hang to dry, do not bend at steep angles as it will damage the brim edge's reinforcing rod
Available in 5 colors: Grey, Blue, Red, Gold, Pink; all colors have black underbrim
Sizes: Small fits helmets 26-29 ½" in outer circumference; measure your helmet where the Da Brim will seat. If measuring a helmet with a non-removable visor, be sure to measure the circumference including the helmet's visor.
Made in USA
Patent # D672096, other patents pending
"Da Brim does an awesome job of keeping me cool and happy. I've used Da Brim climbing, kayaking, and skiing, and I now won't leave my truck without it. It's a must-have for anyone who gets outdoors and wants to enjoy themselves." —John, from CA
"What an awesome idea! I'm tired of frying in the heat above the tree line and Da Brim is the perfect solution to keep me going up the climb to the next pitch. Thank you!" –Ed, from California