products > climbing > packable
Climbing Packable
Stay cool and keep climbing! Our packable multisport helmet visor is the same size as our original multisport brim, but it collapses into a small area that's convenient for storage and transport. Just fold up, secure with the storage band, and attach to a 'biner for the hike to the climb, and, at the base, unfold to give 360° UPF50+ sun protection as a climbing helmet visor. A contoured brim provides excellent neck sun protection and helps reduce sun-related fatigue. Perfect for belaying and climbing in the hot sun.
Increase comfort while outdoors
Air flows freely through helmet vents, promoting cooling
Helps block glare
Installs quickly and easily without modification to your helmet or sticky adhesives
Works with headlamps
Flexible
Collapses into a small and convenient package
Leash provides convenient attachment to carabiner (not included) when transporting
UPF50+ Sun Protection
One size fits most climbing, search and rescue, and work-at-height helmets
Uses: Big wall climbing, Trad climbing, Sport climbing, Mountaineering, Search and Rescue, Guiding. Ideal for areas and desert environments with intense sun
Pictured on a helmet. Helmet not included.
Quick and easy to install
No modifications to your helmet or sticky adhesives
Da Brim Packable Climbing Installation Instructions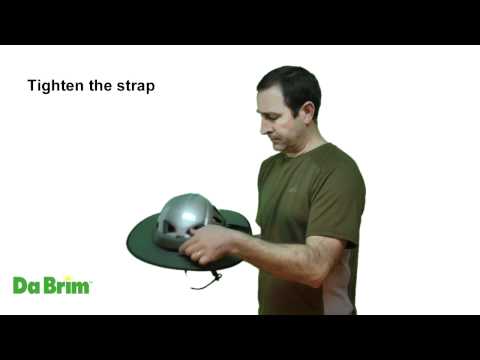 Installation on a helmet with a small or no visor
Instructional video showing how to install Da Brim Multisport on a helmet.
UPF50+ brim (helmet attachment crown not rated)
As with other visors, does not provide top of head sun protection
3 ½" front brim contours to 5" at rear to provide excellent neck sun protection
Elastic band for easy, collapsed storage
Lightweight (weighs approximately 4.5 oz.)
Water Resistant
100% Nylon (200d) exclusive of decoration
Hand wash, hang to dry
Available in 5 colors: Grey, Blue, Red, Gold, Pink; all colors have black underbrim
Sizes: Fits helmets 26-30 ½" in outer circumference; measure your helmet where the Da Brim will seat.
Made in USA
Patent # D672096, other patents pending
"Simple and useful. Nothing beats that combo."—Matt, from Texas
"I love how compact the packable Da Brim is. It collapses into a tiny package when I'm not using it and has become a regular part of my rack. And, I also think it looks cool—kind of like a floppy hat. Thanks for making such a great product!"—Liz, from Nevada
"Our Da Brims arrived today and they fit perfectly. We immediately installed them—that was a snap—and stood outside and it makes the temperature feel noticeably cooler. We can't wait for our trip to Joshua Tree to use them!" –Scott, from Oregon