Rezzo Helmet Visor Set
Shade where you need it!
Bill easily repositions using super strong hook-and-loop fasteners
Gap channels air up towards helmet vents, promoting cooling and relieving air pressure
Helps block glare
Requires no modifications to your helmet or sticky adhesives--simply tighten the band around your helmet, pop on the bill, and go!
Reinforced bill edge for added stability
Extremely lightweight
Secure attachment technology
Bills available in three lengths to suit your needs
The Rezzo helmet visor offers the ability to adapt to your unique needs. A two-piece system allows you to change the position of the bill to your needs for different sun angles. Angle the bill down when the sun is low on the horizon, change position mid-day, and remove at night! Interchangeable bills of different lengths offer added versatility. Improve your comfort with our Rezzo helmet visor system!
Uses: Big wall climbing, Trad climbing, Sport climbing, Mountaineering, Search and Rescue, Guiding. Ideal for windy areas
Set includes 1 attachment band and 1 bill. Additional bills in other colors and lengths may be purchased separately
Click on tabs (Install, Specs, Reviews) for more detailed information.
Pictured on a helmet. Helmet not included.
Quick and easy to install
No modifications to your helmet or sticky adhesives
Da Brim Rezzo Set Installation Instructions
Scroll below for instruction videos specific to your helmet type.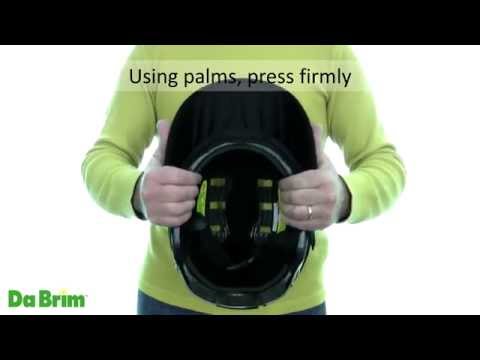 Rezzo Installation on a helmet with rounded back
Instructional video showing how to install the Da Brim Rezzo on a helmet with rounded back.
UPF50+ bill (helmet attachment band not rated)
As with other visors, does not provide top of head sun protection; does not provide sun protection through pressure relief gap
Bills available in 3", 3&frac12", and 4" lengths
Extremely Lightweight: 2.2 - 2.4 oz, dependent on bill size
Water Resistant
Attachment band: 100% Nylon exclusive of decoration, Bills: Solids--100% nylon; Prints: 50% nylon/50% polyester
Hand wash, hang to dry
One size fits most
Bills available in 9 different colors and patterns (Black, Grey, Red, Blue, Gold, Tan, Pastel Ribbons, Camo, Tan Skulls on Black); all bill colors have a black underside.
Attachment band is black
Made in USA
Patents pending
The Rezzo is designed to be used as a helmet visor with many different types of outdoor sports helmets. In addition to climbing helmets, the Rezzo can be used with cycling, skiing, snowboarding, and equestrian helmets to name a few!
Professional Reviews:
Russ Roca of The Path Less Pedaled, calls Da Brim's Rezzo visor "The most functional bike helmet visor ever"! To read the full review, click here: The Path Less Pedaled
Here's what a few of our customers have to say:
"I put [the Rezzo] on my helmet today and rode 20 miles on my trike. The wind was 20 to 30 mph. The wind didn't bother it at all (except when I tilted my head straight up). Won't try that in bad wind. Normal riding into the wind or sideways no problem. I really like it!!!!!!!!....I think all trike owners should get one for their helmet!!!" -Kirk, from IA
"The visor is awesome! It not only allows air to get to my helmet to cool me off, it even increases the flow of air. Since I can adjust it, it is just where I need it whenever I ride. And, most of all, I can simply take it off with no effort at all. Great design. And best of all, when I am flying down hills at 40+ mph, I don't even notice it." -Fletcher, from CA
"Hi, I recently bought your front visor model. And I love it! My bike is my only mode of transport and I've been looking for something like this for a very long time. I think your brims are ingenious. However, I was wondering if I could exchange the brim I bought for your classic model. That shade feels so good I want to extend it all the way around. I live in New Mexico, at 7.000 ft., and the sun is relentless."–Shane, from NM