Cycling Classic Helmet Visor
Our Cycling Classic helmet visor is designed for maximal UPF50+ sun protection coverage. The largest of our bicycle helmet visor models, the Cycling Classic provides broad 360° sun protection. Use our helmet visor with virtually any bicycle helmet to increase your enjoyment of a ride in the cool comfort of shade.
Requires no modifications to your helmet or sticky adhesives
Air flows freely through helmet vents, promoting cooling
Helps block glare
Adjustable front visor angle to see forward while in a head down riding position
Front strap keeps brim from flopping forward and impairing vision
Rear brim height adjustment for use with backpacks and mirrors
Reinforced brim edge for added stability
Engineered to withstand the wind forces imposed by outdoor activities. Comfortable in combined wind speeds of up to 25 mph (sum of your speed and wind from all directions.) Note: This model is not designed for high speed downhill descents or performance cycling.
For recumbent riding, add our front stabilizer.
Uses: Recreational bicycling, touring, commuting, ideal for areas with intense sun
Click on tabs (Install, Specs, Testimonials) for more detailed information.
Pictured on a helmet. Helmet not included.
Quick and easy to install
No modifications to your helmet or sticky adhesives
Da Brim Cycling Installation Instructions
Scroll below for instruction videos specific to your helmet type.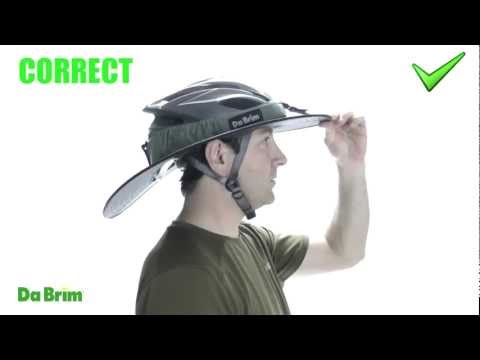 Installation Tips ( Please watch first )
How to correctly configure your helmet for use with Da Brim.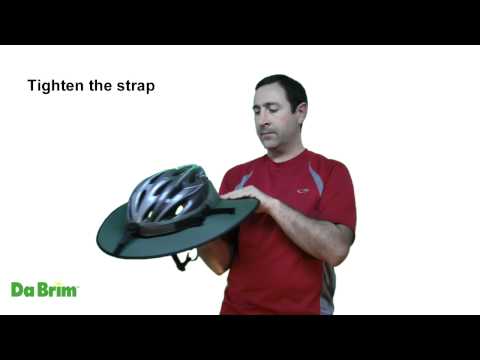 Installation on regular bike helmet
Instructional video showing how to install the Da Brim Cycling model on an elongated bicycle helmet.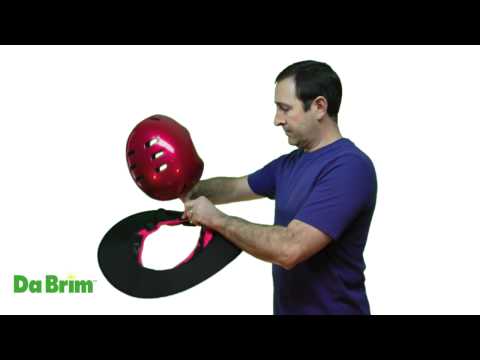 Installation on rounded bike helmet
Instructional video showing how to install the Da Brim Cycling model on a rounded cycling helmet.
UPF50+ brim (helmet attachment crown not rated)
As with other visors, does not provide top of head sun protection
3½" front brim contours to 4½" at rear to provide excellent neck sun protection
Lightweight (weighs approximately 5 oz.)
Water Resistant
100% Nylon exclusive of decoration
Hand wash, hang to dry
One size fits most
Available in 4 colors: Grey, Red, Blue, and Yellow; all colors with black underbrim
Patent # D659292, other patents pending
For professional reviews, click here: made-only-in-usa.com
Here's what a few of our customers have to say:
One of our customers, Gary H. from California, rode over 9600 miles on a circumnavigational tour of the US and wore his Da Brim the entire time! Of his experience with his Da Brim cycling classic, he says: "I never took my Da Brim off. I also never wore any sunscreen on my face. At the end of the day I didn't have a burn and I felt good! It's a dead slick product, man!" You can read about his amazing adventure here.
"Thanks for making such a great product! …I've been looking for years for, as [my wife] calls it a "bike sombrero" and this is the first and only product that meets what she was looking for. I just ordered two more for our family and one for our friend across the street." –Dave, from Missouri
"Just wanted to say a great big thanks for a wonderful, useful product that has really improved my life....Y'all have greatly expanded the amount of time that I can spend doing my favority activity. Also, I have not had any issues even in some brisk winds. I am impressed with the quality and design...Many thanks for your efforts to bring a great product to market for all of us to benefit from."-Eric, from TX
"Hello DaBrim folks. Here's a picture of my wife, daughter, and I on a Great Divide tour last summer through Montana. The brim was a key piece of gear. We were almost finished with our month long tour so I gave it to a fellow Divide cyclist in Bannack, Montana who had even lighter blue eyes than mine. I sure missed it thoose last two days so thanks for sending the new grey one so fast! Take care." -Andy, from Idaho
"Love my Da Brim!"-Maria, mountain biker from New Jersey
"Just a quick email to let you know that Santa made an early visit to Ferntree Gully in Australia around noon today. He was packing one of your classic cycling shades, just for me...Thank you once again for your personal and excellent service....I'm happy to report that it fitted on my helmet, "Easy Peasy", and I can barely notice any additional weight. "She's a Bloody Beuuuuuwdy". Aussie slang for very good.(Thumbs up!)"-Shane, from Australia
"I just returned from a 5 week bike tour in New Zealand. Prior to leaving, I purchased a red Da Brim. It was the best purchase I made for this trip!...Out of 5 weeks, I wore it every day except maybe 4 days….Although I sometimes took if off in heavy rain, there was one day when I left it on because it was doing an awesome job keeping the rain off my glasses. My Da Brim was the envy of many people I met along the way…Thanks for making such a great product!" –Colleen, from Washington
"What I really notice, especially after owning and using several velcro'd or taped helmet visors, is that Da Brim didn't budge: It stayed right where I mounted it, even screaming down Old Mill Road...where, on another occasion, my carbon fibre visor ripped off my helmet! BTW, the 'stiffener' you included to revent the front from bending upwards works as you said it would. I'm pleased with your innovation and, like my helmet, I'll wear it on every trip."-Jay, recumbent rider from Ohio
"Da Brim is perfect for 'bent riders. My wife and I have been using "Da Brims" for a couple of months now and absolutely swear by them. We live in Phoenix, Arizona and ride a lot of miles on our recumbent cicycles, so sun proteciton is a must....We strongly recommend Da Brim for any cyclist, but we especially recommend it for recumbent riders. With the addition of the [front stabilizer], we can even shape the front brim down far enough to keep the sun and wind out of our eyes without having to tip our helmets down, even on those evenings when riding home into the sun. And the customer support is absolutely unbelievable..." -John, recumbent rider from Arizona
"I LOVE your Classic Da Brim! Had to give the Sporty model a try for those extra windy days. Just came back from a bike and fishing trip and wore my bike helmet with Da Brim for fishing shade too. I have someone ask about your product EVERY time - seriously - every time we go for a bike ride! :O" - VT, from CA