products > equestrian > multisport standard
Multisport Standard
Our multisport standard helmet visor provides a more level look than our equestrian endurance and petite visors with a slight curvature at the back. Wide, 360° brim provides broad UPF50+ sun protection. This model works with equestrian helmets that have a non-removable, small visor up to ½" in width or a removable visor.
Installs quickly and easily without modification to your helmet or sticky adhesives
Easy to remove and store
Air flows freely through helmet vents, promoting cooling
Helps block glare
Secure attachment that stays on—even at a gallop!
Reinforced brim edge for added stability
UPF50+ Sun Protection
Water resistant materials keep rain off your shoulders and neck during rainy day rides
Available in Small and Large sizes.
Works only with helmets that have a removable or small pre-integrated visor. Does not have a pocket and will not work with helmets that have a non-removable visor over ½" in width.
Click on tabs (Install, Specs, Reviews) for more detailed information.
Uses: Trail riding, endurance riding, everyday exercising, practice, ideal for areas with intense sun
Pictured on a helmet. Helmet not included.
Quick and easy to install
No modifications to your helmet or sticky adhesives
Da Brim Multisport Standard Installation Instructions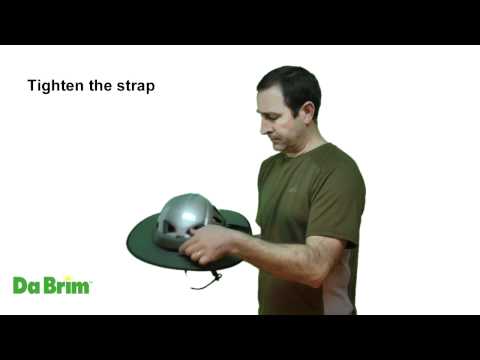 Installation on a helmet with a small or no visor
Instructional video showing how to install Da Brim Multisport on a helmet.
UPF50+ brim (helmet attachment crown not rated)
As with other visors, does not provide top of head sun protection
3 ½" front brim contours to 5" at rear to provide excellent neck sun protection
Lightweight (weighs approximately 4.5 oz.)
Water Resistant
100% Nylon exclusive of decoration
Hand wash, hang to dry
Available in 4 colors: Blue, Red, Gold, Pink; all colors with black underbrim
Sizes: Small fits helmets 26-29 ½" in outer circumference; Large fits helmets 29-32" in outer circumference. Measure your helmet where the Da Brim will seat. If measuring a helmet with a non-removable visor, be sure to measure the circumference including the helmet's visor.
Made in USA
Patent # D672096, other patents pending
For professional reviews of the Da Brim equestrian helmet visor styles, click here: Endurance Ride Stuff&nbsp&nbsp&nbsp&nbsp&nbsp&nbsp&nbsp&nbsp&nbsp The Equinist&nbsp&nbsp&nbsp&nbsp&nbsp&nbsp&nbsp&nbsp&nbsp Endurance Granny
Here's what a few of our customers have to say:
"They have arrived!!! I was amazed to see the parcel in the mailbox yesterday!!! Attached one to my helmet today and it looks excellent – nice and stiff, firmly on and huge shading brim. It got a good test with me just walking outside in our galeforce westerly winds today and passed the test!...Thanks again!" –Mimi, from Australia
"The overall weight of the Da Brim does not add any noticeable weight to the helmet in any way. I would highly recommend this product and have been very satisfied with it in all aspects." –Jeff, from California