products > professional > alto
PRO Alto Helmet Visor Set
PRO Alto Helmet Visor Set
Ditch the under-the-helmet baseball cap for improved comfort! Our signature PRO line was designed for the professional and offers the ultimate in durability. Made with 1000d CORDURA&reg fabric, the bill is abrasion resistant and withstands the tough environment of a work-at-height professional. Available in multiple lengths to suit your unique needs.
Bill easily repositions using super strong hook-and-loop fasteners
Gap channels air up towards helmet vents, promoting cooling and relieving air pressure
Water resistant bill keeps rain and snow off your safety glasses.
Helps block glare
Requires no modifications to your helmet or sticky adhesives--simply tighten the band around your helmet, pop on the bill, and go!
Extremely lightweight
Secure attachment technology
Bills available in three lengths to suit your needs
The PRO Alto helmet visor offers the ability to adapt to your unique needs. A two-piece system allows you to change the position of the bill to your needs for different sun angles. Angle the bill down when the sun is low on the horizon, change position mid-day, and remove at night! Interchangeable bills of different lengths offer added versatility. Improve your comfort with our PRO Alto helmet visor system!
Uses: Work-at-height occupations, rigging, rescue, professional guides
Set includes 1 attachment band and 1 bill. Additional bills in other colors and lengths may be purchased separately
Click on tabs (Install, Specs) for more detailed information.
Pictured on a helmet. Helmet not included.
PRO Alto Specifications
Made in USA - US Patent # D687604, other patents pending
Two year limited warranty
Fits most work at height helmets
Bill Dimensions
2" (50 mm)
2&frac12" (63 mm)
3" (76 mm)
Product Specifications
Weight - 2.4 - 2.9 oz (68 - 82 grams)
Windspeed - 35+ MPH (56+ KPH)
UPF50+ brim (helmet attachment band not rated)
As with other visors, does not provide top of head sun protection
Does not provide sun protection through pressure relief gap
Water Resistant
Flexible
Attachment band: 100% Nylon exclusive of decoration
Bills: 100% nylon
Brim uses 1000d Cordura fabric
Underside of brim is black
Hand wash, hang to dry
Product Colors
Dark Grey
Bright Orange
Attachment band is black
PRO Alto Instruction Manual and Installation Video
Da Brim Rezzo Set Installation Instructions
Scroll below for instruction videos specific to your helmet type.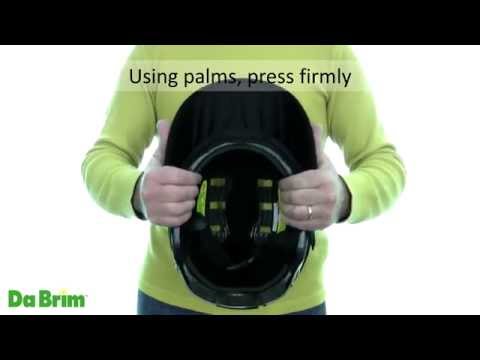 Rezzo Installation on a helmet with rounded back
Instructional video showing how to install the Da Brim Rezzo on a helmet with rounded back.