products > professional > tech
PRO Tech
PRO Tech Safety Helmet Brim
Our signature PRO line was designed for the professional and offers the ultimate in durability. Made with 1000d CORDURA&reg fabric, the brim is abrasion resistant and withstands the tough environment of a work-at-height professional. A contoured brim with a 1 ½" drop at the back adds excellent sun protection to your helmet and helps keep you more comfortable while working out in the hot sun. A water resistant brim keeps rain and snow off your shoulders.
Installs quickly and easily without modification to your helmet or sticky adhesives
Air flows freely through helmet vents, promoting cooling
Helps block glare
Works with headlamps and hydration packs
Flexible
UPF50+ Sun Protection
Fits most climbing, rigging, and work-at-height helmets. Does not work with hard hats. See our PRO Vision product for this application.
Uses: Work-at-height occupations, tower, wind turbine, rigging, rescue, professional guides
Bulk orders
Contact PRO Sales at (510) 400-8465 / sales@dabrimpro.com
Pictured on a helmet. Helmet not included.
PRO Tech Specifications
Two year limited warranty
Fits most work at height helmets, 26-31" in outer circumference
US Patents #D720892, #9149085, others pending
Brim Dimensions
Front - 3" (76 mm)
Left/Right - 3" (76 mm)
Rear - 3&frac12" (88 mm)
Rear drop - 1&frac12" (38 mm)
Weight - 4.4 oz (125 grams)
Product Specifications
Width - 14&frac34" (37 cm)
Length - 16&frac34" (42 cm)
Max windspeed - 35 MPH (56 KPH)
UPF50+ brim (helmet attachment crown not rated)
As with other visors, does not provide top of head sun protection
Water Resistant
Flexible
100% Nylon exclusive of decoration
Brim uses 1000d Cordura fabric
Underside of brim is black
Hand wash, hang to dry
Product Colors
PRO Tech Instruction Manual and Installation Video
Da Brim PRO Tech Instruction Manual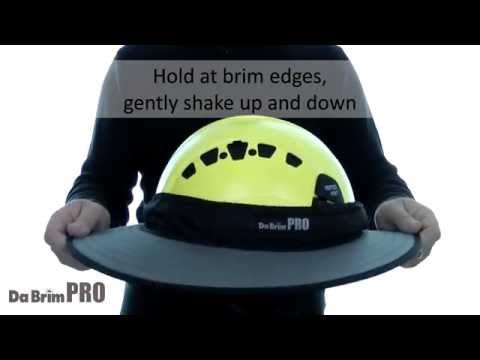 Da Brim PRO Tech Installation
Instructional video showing how to install Da Brim PRO Tech visor on a three point safety helmet.
"My guys have been using them all week. We've done some helicopter tethering and the guys said your product works great. Works exactly like you said it would and they love them. I've passed your contact info. along to some other people."
— Jeremy, power company foreman from WA
"Your Pro visor really saved our butts last week. We were down in Texas doing some installs at a wind farm and the heat was unbearable. We will be using them on all our jobs."
— Rick, from MI
"I just wanted to give you a call and let you know you have an awesome, high quality product. Great shade. It really helps and I'll be recommending them to other companies as well."
— Josh, from WI